Misc. Old Photos

The Fugitives just before they morphed into SRC with Glenn Quackenbush on Keys, Gary on
Guitar, Steve Lyman on guitar, and John Boyles on Bass (not seen is E.G. Clawson on
drums) Pretty sure this is the Birmingham Bloomfield Teen Center in Birmingham Michigan. - Kim

This one is of Gary possibly at the Clawson Hideout in Clawson Michigan courtesy of John De Lorenzo Collection.
---
Some photos of SRC at Tartar Field at Wayne State University, Detroit 1970.
A good photo of Gary and Al Wilmot and a bunch of Scott Richardson.
Courtesy of Michael John.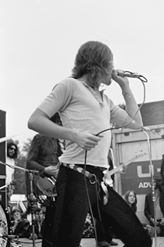 ---

Robin Dale in 1967
"This photograph was taken in the driveway of the rented 1127 Broadway (Ann Arbor)
house with my Minolta half-frame 35mm camera. That's the rear of our Dodge van,
purchased in 1967 from the Steeb dealership in Saline, Michigan." - Steve Lyman
---

April 7, 1969 The Detroit Pop Festival at Olympia Stadium Detroit. If you look between Gary's
picking hand and Scott's elbow you will see E. G. Clawson's face. The photo is by Robert Matheu.
---

Goose Lake concert in August 1970, credited to Mlive.com
---

Scott Richardson performing with the band at Gallup Park in Ann Arbor, date uncertain
---

Scott Richardson and Gary Quackenbush
June 29, 2012 at the SRC reunion at the Magic Bag in Ferndale, Michigan
Photo by Doug Podell
---

Scott Richardson, Al Wilmot, and Gary Quackenbush - April 7, 1969
Photo by Ron Domilici
---

Scott Richardson, Detroit Cobo Hall Autorama from January 24, 25, and 26, 1969
Photo by Diane Cornelius
---